We are a firefighter owned and operated business. With over 75 years of combined firefighting experience in our family, we strive to emphasize how important it is to make reliable fire station furniture. While there are a lot of companies on the internet that pass off commercially available fire station furniture, and especially fire station chairs— we are one of the first companies to provide fire departments with safe, reliable, durable, and functional fire station furniture at an affordable price.
Our focus is not just producing furniture to make a profit but working with the top manufacturers across the country to develop fire station furniture that is safe and can meet the rigid firehouse standards. One of our favorite products is the original Fire Tough Recliner. This is not just any recliner, this recliner is strong, durable, and is ideal for anyone who is looking for safe fire station furniture.
Why is it safe? We know that firefighters have an increase of exposure to carcinogens. That is why we remove as many of the products that have potential health concerns when possible from our fire station furniture.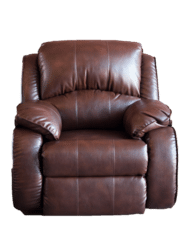 During construction, heavy gauged steel is used in the spring and frame construction. Additional springs are used throughout for optimal support. Next, we add hardwoods for the seat box construction and to increase the strength and provide extra stability. Then, we use foam densities to allow for comfort while still maintaining form and stability. In addition, reinforced arm frames help maintain the durability of chair structure and the overall strength.
Most importantly, flame retardants are removed from the foams to limit firefighter exposure to carcinogens. All of our fire station furniture chairs can be disinfected per NFPA standards. To top it off, we chose durable bonded leather. Our fire station furniture and especially our Fire Touch Recliner is made for the demands of the firehouse! The recycled leather provides outstanding durability and high-quality finish.
Don't be fooled by companies claiming to have fire station furniture. We take a unique blend of nature and technology- with the added benefit of 75 years of true firefighting knowledge to bring you the best fire station furniture. Don't believe us? Just ask, and we can tell you why we stand above the rest.
Browse our fire station furniture catalog to learn more about products.