The products featured this month are the fire station cabinets and shelves. We could make a long list of the benefits of having adequate storage and shelving. When designing your fire station living space, it's important to understand how the station functions, the relationship between members and the space needed for efficiency and traffic flow. Also, it's essential for those interacting within an area to feel comfortable.
Our fire station furniture line offers four different options for your living space: The Fire Tough Solid Wood 30' Book Shelf, Fire Touch Solid Wood Dorm Locker, Fire Touch Solid Wood Large Screen TV Cabinet, and the Fire Touch Solid Wood Dorm Locker with Drawers. Each option is durable, easy to clean, and provides much storage. All form of our cabinet and shelving options come in double lacquered honey.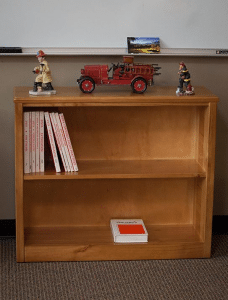 Whether for a large department in a big city or a small department in a rural town, the day room is one of the most utilized spaces with a fire station. This is one of the critical reasons when shopping for fire station furniture you must pay attention to the durability of materials to ensure that the station will look and feel good for years to come without requiring constant, costly repairs. Our fire station furniture is made for comfort and durability. All four options are solid wood and designed and built for the fire station environment. Each piece is carefully crafted with kiln-dried solid wood and southern yellow pine. All of the joints are mortise and tenon with added screws and plugs for extra strength.
The ease of being able to clean your fire station furniture is also essential. The cleaning regimen defines fire station culture, and anything that can be leveraged to make the day-to-day cleaning easier is an important consideration when choosing your fire station furniture. All of our furniture can be disinfected per NFPA standards.
Every fire department has its own culture and vision of what their ideal living space would entail. When shopping for fire station furniture be very diligent when choosing and remember to move forward with fire station furniture that is durable, easy to clean and practical for your environment—-as well as built fire tough.